The size and scope of this project means that it is going to cost a lot of money and require the efforts of hundreds, perhaps even thousands of people around the world by the time it is complete. On top of that all of the images collected need to be processed (see Project Numbers) and all of the site must be produced in English and French, Canada's two official languages. All of this requires equipment, volunteers, paid staff, transportation, communication and co-ordination. Sponsors and volunteers are needed all over the world. We are not asking for long term commitments or huge outlays of time or money. Individual or small group sponsors can sponsor the cost of procuring and processing one or more Canadian War Grave images for $25.00 Cdn / £10.00UK. The sponsors name or group name will appear on the page containing the image of the War Grave sponsored as well as on a master sponsor/patron list. You will be able to do a search for the page you sponsored. Larger corporate sponsors will have special recognition on the web site and in the project promotional material. Special certificates will be issued to corporate sponsors of 10 or more graves or private sponsors of one grave. Cheques should be made payable to: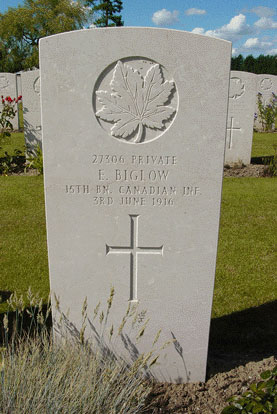 The Maple Leaf Legacy Project Private Sponsors may send their contributions to: Maple Leaf Legacy Project 236 Edgebrook Gardens N.W. Calgary T3A 4Z9 Canada OR Maple Leaf Legacy Project Menenstraat 5 8900 IEPER Belgium All donations, of $25.00 Cdn or more, are eligible for a tax donation receipt Corporate Sponsors should contact us as soon as possible to discuss your participation in this worthy endeavour.
Volunteering Volunteering can take many forms. Primarily we need people to take photographs of War Graves in your area or in an area to which you will be traveling. If you need to know if there are any Canadian War Graves in your area please Contact us with the name of the location or locations you are able to cover. Please also consult the Project Photo Guide, below, for helpful information on how to get the best results for the project's needs. A clear legible inscription is vital if we are to be able to use the photo. Soon you will be able to send your digitized photo to us through this and the permanent site. Other Volunteers will be needed for dealing with the photographs, (sorting, scanning, manipulating, labeling, uploading to the site), translation, project promotion, school and church participation, newsletter production, letter writing, occasional research and I'm sure there will be other things too.